Automated Watering System
The automated watering system is a machine that waters a plant automatically from a tank or reservoir of water. The arduino controls an old CD drive, which is hooked up through a variety of methods to control water flow from the reservoir: perhaps it crimps a surgical tube, or else it could be used to trigger a spray bottle. The design is up to the students from the materials you supply!
Materials list:
A trashed computer tower (plunder an e-waste recycling bin) or other source of an old CD drive
A 12-16V power supply - also e-waste
Some wire
Two DPDT relays that have coil input 5V & <40mA
An Arduino and its USB cable to a laptop
A moisture sensor (though you could make your own)
Some clear plastic bottles from waste bin (1/2 gallon juice or soda bottles works well)
(optional) surgical tubing, aquarium tubing, or other. Another option is to flow water by tilting the plastic bottle. Use your creativity!
A plant
Instructions:
We have written up an instructable for directions on how to make the waterer, available as a pdf by clicking here (Source).

Above is the circuit diagram: note that the motor is in the CD drive, and the moisture sensor is in the soil. The first relay (triggered by output from Arduino pin 3) is used to switch motor power on/off; since we had no spst we just used one side of the dpdt. The second relay (triggered by output from Arduino pin 2) is used to change polarity of the motor. The CD drive motors were rated for 12v; the diagram shows 16v because we recycled power supplies from discarded laptops. Try to use multistrand wire for anything requiring significant length or flexing, because the kids tend to accidentally break solid core wire by bending it back and forth. Soldering was an enormously popular activity, so you are best off if you firmly anchor parts (e.g. with hot glue) and then have terminals the kids can solder the multistrand from for making the lengthy attachments.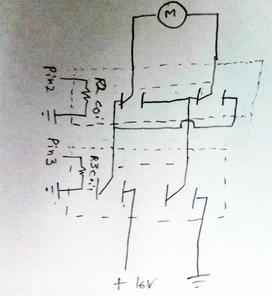 Results: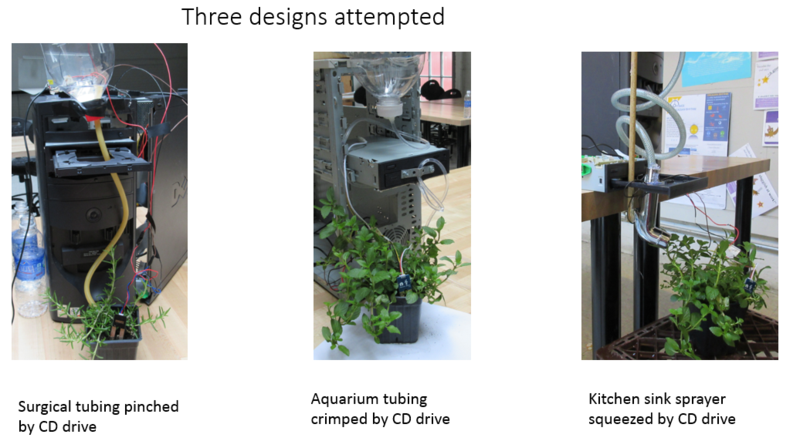 Students Explain:
Presentations:
PPT slides on food deserts and urban agriculture (Dan Lyles)
PPT slides on E-Waste (Ellen Foster)
Student research reports on environmental hazards:
Freddie Grey and Lead Poisoning
Environment Justice and Agbogbloshie